Your Source for Ford Truck Performance
Western Motorsports offers a full range of performance parts from intakes, high-flow exhausts and programming chips to suspension, body and interior mods for your Diesel or EFI truck.
Ford Diesel Truck Tech
2011 6.7 Scorpion - This is the all new Ford built diesel with 400hp / 800 ft lbs and is promising excellent fuel economy and reliability. So far customers are loving this engine. We have been adding cold air intakes and exhaust but are still waiting for Diablo and SCT to release programming.
2008-10 6.4 - The 6.4 makes excellent power (350hp / 650 ft lbs) but fuel economy in stock form is terrible. A DPF delete exhaust with programmer is really needed on these trucks and can add several mpg along with 50-100hp.
2003-07 6.0 - The 6.0 replaced the 7.3 and offers decent performance, mileage and is much quieter. Reliability has been a big problem but with some simple mods it can be a very reliable engine. Adding a EGR delete kit and ARP head studs will solve the head gasket problems that plagued these engines.
1999-03 7.3 - The good old reliable 7.3 seems to last forever but is a little short on power compared to the new Powerstrokes. Don't worry though, a cold air intake, exhaust and programmer will add a good 80-100hp and the 7.3 will just keep on going.
Crazy Mario - Discount Parts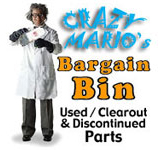 New Parts Added - July 27, 2011
Ford Gas Truck Tech
Ford Raptor - who doesn't want this off road race inspired truck! Powered by the 5.4 or 6.2, running on 35" tires with Fox Shocks and 12" of travel. Most customers just add a cold air intake and exhaust for a bit more power but a few go all the way with a 600hp Procharger.
Lightning and Harley - A performance truck for the street. An Eaton supercharged 5.4 made 360-380hp and can be pushed to 500hp with pulley, tuning, intake and exhaust. The Lightning was surprisingly quick around a road course while the 4 door Harley offered some more comfort and room for passengers.
2011+ F-150 - New engine performance from the 5.0 and EcoBoost makes the new F-150 a leader in both power and mileage. The 5.0 4V is based off the Mustang engine so you know they can make big power with a few mods. The aftermarket is starting to work with the EcoBoost and the basic bolt on parts are available and making a big difference.
2009-10 F-150 - Interior and body changes updated the look of the F-150. The 5.4 3V remains a strong engine and a new 6 speed transmission was added. A cold air intake still works wonders as does a programmer with it's changes to engine mapping, electronic throttle control and transmission functions.
2004-08 F-150 - This new design set the truck world on fire in 2004! The 5.4 3V is an excellent engine but Ford built a terribly restrictive intake with the slide in filter. Everyone with this truck should have a S&B cold air intake, the performance and mileage increases are amazing.
1997-04 F-150 - Ford took aero styling to the F-150 and changed to the 4.6 / 5.4 modular engines. Power was decent but they really do need an intake / exhaust / programmer to wake them up and be able to tow. Expect 30-40hp increases and 2-4 mpg gain from a package.
Ford Ranger - One of the best selling compact trucks ever! The Ranger was available with the 2.3 / 3.0 and 4.0 engines. The 4.0 makes great power and responds very well to aftermarket performance parts. Add an intake, exhaust and some wheels / tires and you have a great truck for ripping around town in.